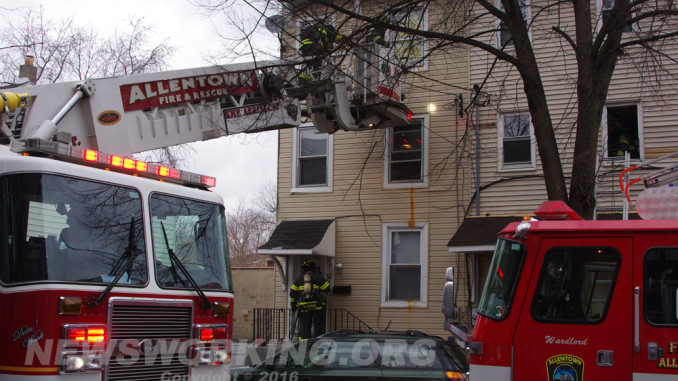 Allentown 9-1-1 communications center started receiving multiple calls for a house fire.  At 11:57 Wednesday morning, box 3137 was transmitted for the 400 block of Ridge Avenue for the house fire sending the ticket to Engines 6, 13, 9, 4 (F.A.S.T.), Truck 2, Battalion 43 and car 48.
Engine 6 arrives at 12:00 and signals a working fire in a 3-story twin with fire showing out a third floor rear window of 415 Ridge Avenue.  One hand line is stretched to the third floor where the crew finds a room and contents job and makes a quick knock down of the fire.  Truck 2 members go to the roof and cut a vent hole directly above the fire room.
A hydrant at Gordon and Ridge Avenue supplies Engine 6 with water.  Searches come up negative.
The family escaped the blaze uninjured and the Red Cross was notified to assist them.
The fire is under investigation.