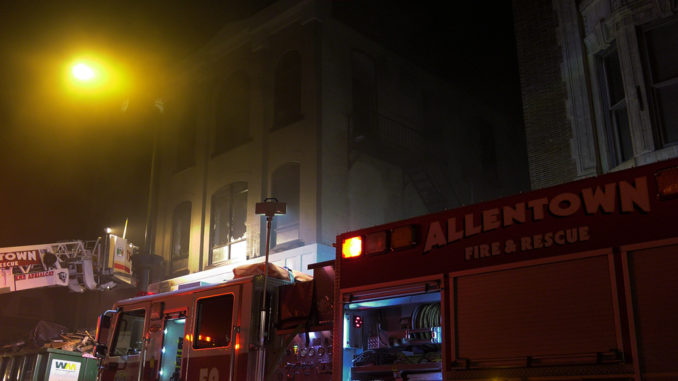 Friday evening at 22:18 city 9-1-1 center transmitted Allentown box 2125 for a structural fire in the unit block of South 8th Street sending Engines 9, 4, 6, 10, Truck 2 and Battalion 43.
Battalion 43 arrived and found heavy smoke pushing from the 3-story 25×75 vacant building at the corner of 8th and Maple Streets.  Engine 9 had a water supply from the hydrant at the corner and stretched two hand lines.  Truck 2 positioned in front of the building.  Crews had fire venting from the front door of the building.  Truck 2 took the windows out on the second floor front when the initial hand line went into operation.
Members from an engine crew operating on the second floor became disoriented.  Moments later they found their way out to a fire escape on side 4 of the building.  The fire escape had no ladder so they called for a ground ladder.  The crew was ordered to report to the command post.  Engine 6 positioned to the rear of the building on Maple Street.  With heavy smoke still pushing from the windows of the building, 43 had the second alarm transmitted.
Engines 14 and 11 were assigned on the second alarm.  While searching for extension, crews found a fire in the basement.  Once all the fire was extinguished the conditions improved and the fire was determined to be held to the first floor front of the building.
Allentown EMS had two medic units on the scene.  The Fire Marshal's office is investigating.