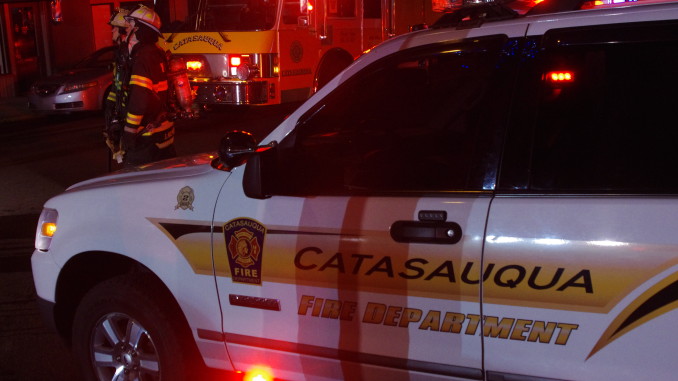 At 20:45 Lehigh County 9-1-1 fire radio transmitted the box for the 100 block of Pine Street for smoke from the roof of a building sending stations 2 and 18.
Chief 201 arrives and reports smoke from a window on the top floor of a 3-story large single-family-dwelling (SFD). Chief 201 requested Rescue 11 (Greenawalds) for the F.A.S.T. company.
Engine 211 establishes a water supply from the hydrant at 2nd and Pine and lays in. The engine crew stretches a hand line to the 3rd floor to find a small fire in a 3rd floor room. The crew extinguishes the fire quickly and opens up the windows to ventilate.
Ladder 231 crew members along with the junior firefighters throw multiple ground ladders to the 2nd and 3rd floors.
The Fire Marshal (FM2) is investigating the cause of the fire.