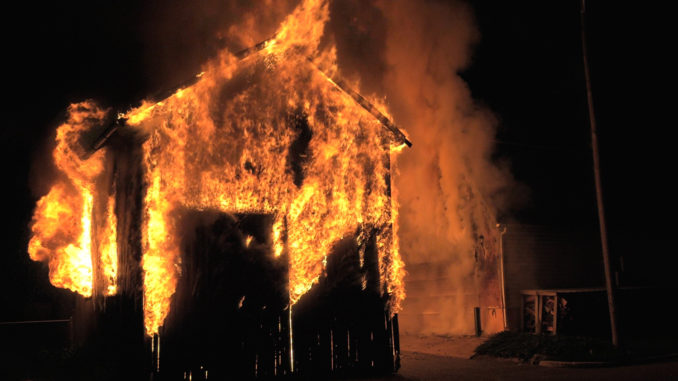 At 00:58 hours Sunday morning, Lehigh County transmitted the box for Leisenring Street between Front and Second Streets for a garage fire sending Engines 5 (5041), 4 (3911), 14 (3912), Truck 6 (3631), Assistant Chief 4A (3902) and Deputy 35 (3503).
Engine 4 arrived first under the command of Assistant 4A (Dankel) and reported two structures involved and a utility pole behind 5124-5126 Front Street.  Engine 4 positioned on Leisenring Street at Front Street and stretched a hand line up Leisenring to the fully-involved barn type structure.  The initial attack was to protect the exposure 4, a garage that was starting to burn.  That garage was located behind 5131 2nd Street.  With the amount of fire and how fast it was spreading,  4A requested two additional engines from station 3 (38).
Assistant Chief Dankel was requesting a second hand line to try and darken down some of the initial fire or the garage at 5127 2nd Street would be involved.  That garage was damaged by the heat.  The garage across the street from the original fire building on Leisenring also sustained minor heat damage.
Rescue Engine 5 (4041) positioned on Whitehall Street and stretched a 2 1/2″ blitz line down the alley between Front and 2nd Streets to the fire.  Engine 3 (3831) backed in the alley from Main Street and prepared to use their Squrt if the fire continued to extend to neighboring garages.  A hand line was stretched off Engine 3 to the exposure garage.
The original fire building collapsed within minutes of Engine 4 arriving.  The companies working held the fire to two structures and the utility pole.  A total of 5 lines were stretched and operating.
The Fire Marshal's office is investigating the cause of the fire.