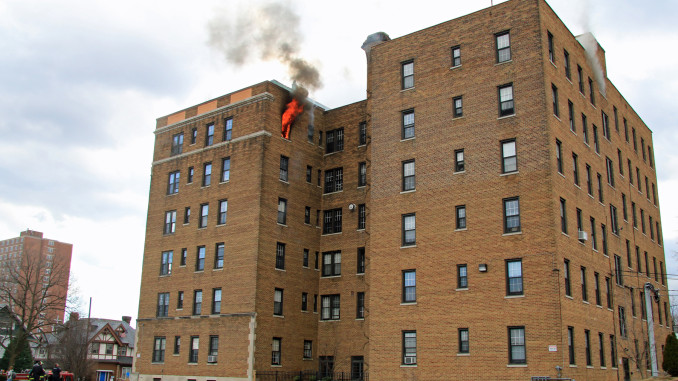 Multiple calls were coming in along with a fire alarm for 1411 Hamilton Street.  At 12:25 box 2413 was transmitted for the apartment building fire sending Engines 9, 4, 10, 14 (F.A.S.T.), Truck 2 and Battalion 43 (Williams).
Engine 9 took the front of the building and supplied the stand pipe at the front of the building while crews went in to investigate and find the seat of the fire.  Battalion 43's Aide went to the top floor of the 6-story O/M/D (Occupied Multiple Dwelling) and found heavy smoke in the hallway.  Chief Williams reported fire showing from a window on the east side of the building and had the 2nd alarm struck.  Engine 13, 6 and Air 1 were assigned on the second.
The video below was shot by Mike Nester and has interviews from the tenants:
Interior crews hooked a high rise hose pack into the stand pipe connection of the 5th floor and stretched to the fire apartment.  Engine 10 went to the rear of the building and supplied the stand pipe on the north side of the building.  Eventually a second high rise pack was hooked up and stretched.
Once the crews got water flowing they made a quick attack on the fire and contained it to the apartment.  All searches came up negative and now injuries were reported.