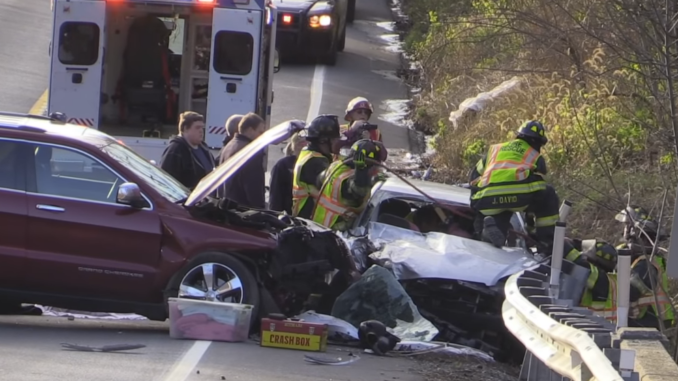 Thursday afternoon Lehigh Township Fire 47 was dispatched to a rescue assignment on Rt. 145 in the area of Birch Drive.
Rescue crews arrived at the scene located south of Birch Drive in the 'S' turns to find a 3 vehicle accident – 1 car, 1 SUV and 1 motorcycle.
Two people in the car were pinned in the wreckage.  Unfortunately, one person was deceased in the car while the other one had to be extricated.  The driver was flown by Medevac to the trauma center where they later died from their injuries.
A second Medevac helicopter was brought in to fly the motorcyclist, however, they were transported to the trauma center by ground.  The cyclist later died at the hospital.  The motorcyclist lost a leg during the horrific crash.
No word on the occupants of the Cherokee.   Witnesses say the car hit the motorcycle head-on followed by the Cherokee hitting the car head-on.  \
This is the 3rd fatal accident in 6 days that killed 5 people in the township.  Route 145 was closed way into the evening.
Video and Photo by Mike Nester of NVP.