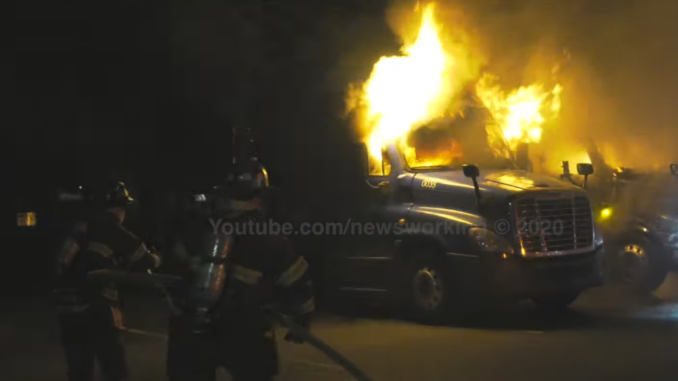 Late Friday night, Allentown Fire Dispatch sent Engines 4 and 9 to box 3135 347 West Gordon Street for a truck fire.
When the companies went responding, the fire dispatcher advised that they will have 4 trucks burning in the parking lot along the Jordan Creek.
Engine 4 arrived and the Captain reported 4 fully-involved tractor trailer cabs and requested an additional engine. Engine 6 (reserve 8), Battalion 43 (Williams) and FM 45 responded. \
Battalion 43 had 3 lines stretched and operating. It took about a half hour to darken down the blaze.
The Fire Marshal office is investigating this blaze.
At 6:00AM Saturday morning, Engines 13 and 6 were sent to the area of Union and Walnut Streets for a camper and other cars burning. It is unknown if these two fires are related. The FM is investigating both incidents.