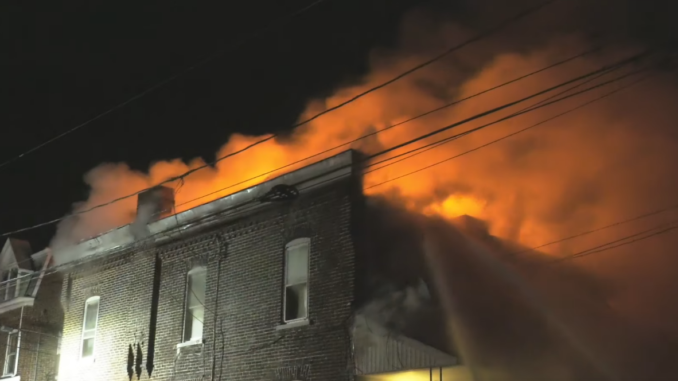 At 03:10AM Allentown transmitted box 2327 for 918 Green Street for a house fire assigning Engines 9, 4, 6, 10 (F.A.S.T.), Truck 2 and Battalion 43 (Atiyeh).
Enroute to the box, comm center advised that police were on scene and reporting an explosion on North Fountain Street in the 700 block.
Battalion 43 arrived and signaled a working fire and struck out the 2nd alarm bringing in Engine 13, 14, Air 1. The chief found the front of the house in the street. Heavy fire was raging in rowhome and extending horizontally. Atiyeh struck out the 3rd alarm sending in the last available company to the scene, Engine 11.
Battalion Chief Atiyeh requested UGI gas utilities forthwith due to the fire being fed by natural gas. Once the fire extended into the cockloft, it took off and ran the row.
A total of 10 homes were damaged by the fire and left 30 people homeless. One firefighter sustained minor injuries. No civilians were injured.