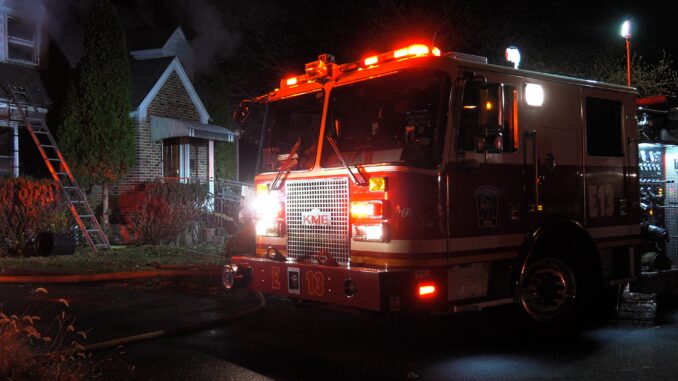 At 04:21 hours Allentown Fire transmitted box 3532 East Allen and Randolph for the address 625 North Randolph Street on a house fire, sending Engines 13, 6, 9, 14 (F.A.S.T.), Truck 2 and Battalion 43 (Held). The responding companies were told via radio that the comm center was receiving multiple calls. Police arrived and reported heavy fire on the side of the house venting from windows.
Engine 13 arrived and reported a working fire in a one-story dwelling at the corner of East Allen and Randolph, updating the fire building to 602 North Randolph Street. By now, the comm center was receiving calls for people trapped inside. Chief 43 arrived and ordered Engine 9 & 6 to commence searches. The chief radioed for help on the side of the building for a victim inside. Firefighters rescued one person from the burning home. Another victim was possibly still inside. However, at the time of this writing, that person was unaccounted for.
Engine 13 stretched 2 hand lines and Engine 9 brought in the water supply from North Quebec and Allen Streets. Engine 9 had 1 hand line stretched.
Air one was dispatched to the all hands fire to refill the firefighters air cylinders. Battalion 43 held the fire to 4 Engines and the Truck.
At 06:45 the Lehigh County Coroners office was enroute to this address.