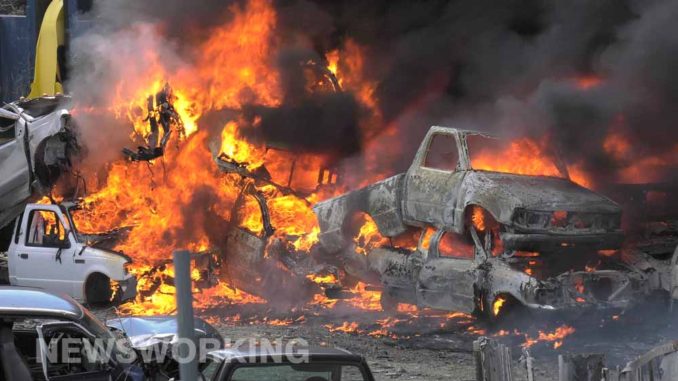 At 3:30PM Lehigh County transmitted a box for a structural fire at 4162 Best Station Road in Washington Township sending stations 9, 6, 23, 24 and Medic 67.
Dispatchers were receiving multiple calls for a building on fire at the Hanna's salvage yard and getting reports of explosions.
The second alarm was transmitted quickly after receiving that information.
The chief arrived and reported the building fully involved with explosions going off and requested a tanker task force to the scene.  This area has no hydrants so the companies depend on tankers for water supply.
Two aerial master streams were in-service along with multiple large hand lines.
The thick black smoke could be seen throughout the Lehigh Valley as far south as Allentown.
The fire burned for more than 3 hours.
Follow us! Like us! Show us that you love us…
Live TV: http://www.periscope.tv/newsworking
Facebook: https://www.facebook.com/newsworking
Twitter: https://www.twitter.com/newsworking
Instagram: https://www.instagram.com/newsworking
Website: https://www.newsworking.org
Want to watch us doing "LIVE" broadcasts? Check us out on Periscope.TV – use the link above and follow us! Go behind the scenes, dashcams and incidents as they are happening LIVE on TV!