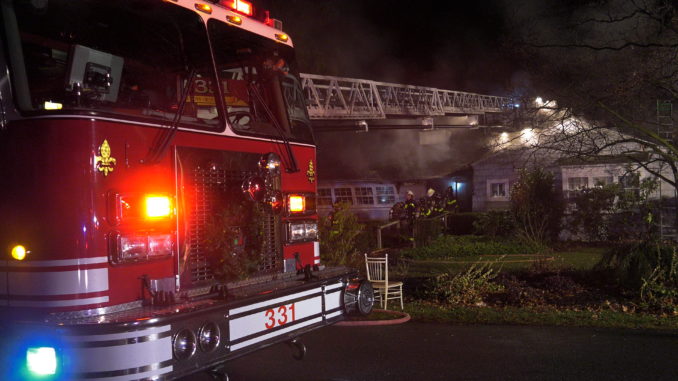 At 11:42 Monday night, Lehigh County transmitted the box for 3774 Manchester Road on a house fire with entrapment sending Engine 32, 11, Tanker 32, Trucks 3, 8, Rescue 11, Rescue 36 as the F.A.S.T. and Medic 62.
Initial reports were for a front porch on fire and a disabled female in the bedroom unable to get out.
Police arrived and removed the disabled woman from her bedroom.
Deputy 32 (Kutz) arrived and reported a civilian trying to extinguish the fire with a garden hose of a 1-story single-family-dwelling and went to investigate. Moments later Deputy Kutz reported the occupant out of the house and has a working fire.
Engine 32-12 arrives and stretches a 1.75 inch line to the front door. Deputy 32 orders the engine crew to the interior with the line and tools to pull the ceilings. They also conduct a primary search of the dwelling.
As the fire extends into the walls and roof, crews use ground ladders and proceed to the roof to open up. Tower Ladder 331 positions in front of the house and flies the bucket to the roof to assist in roof operations.
The fire was brought under control by 00:32 Tuesday.