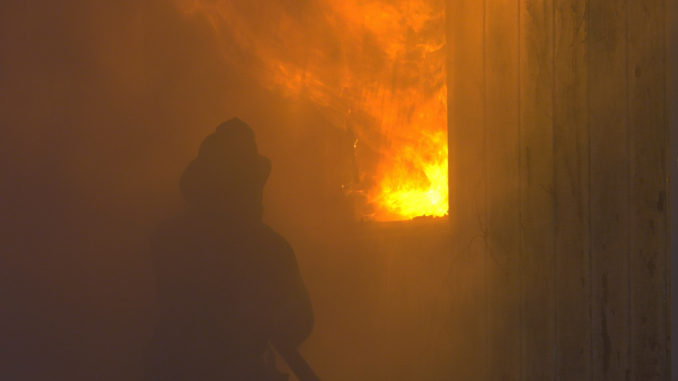 At 02:15AM Tuesday morning, Lehigh County 9-1-1 transmitted the box for 3332 East Columbia Street on the house fire sending Whitehall stations 38, 39, Truck 6 (LC 3631) and Medic 62.
Minutes later the police arrived and reported a working fire.  Engine 4 (LC 3911) arrived to find heavy fire throughout the 1st and 2nd floors of the 2-story private dwelling and stretched a large hand line to the east side (side B) of the dwelling.
Quint 3 arrived and positioned in front of the fire building and put their elevated master stream into operation.
The second alarm was transmitted at 02:28 bringing in Engine 14 (LC 3912), Engine 5 (LC 4041), Greenawalds Rescue 11 for the F.A.S.T., Catasauqua Ladder 231, Woodlawn cascade 3292 and a second medic unit from 62.
The house was under renovation and no one was in the home at the time of the fire.  Firefighters battled the fire for one hour and thirty minutes before darkening down the flames.
A bulldozer was called in to tear the structure down.