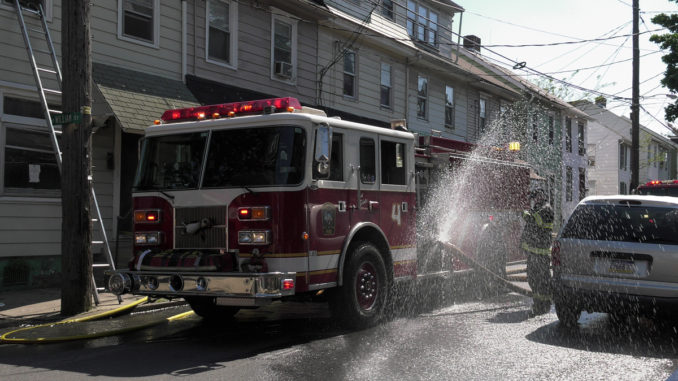 Fire radio transmitted Allentown box 2253 (5th & Liberty) for the 500 block of Liberty Street for a reported house fire sending Engines 4, 9, 6, 13, Truck 2 (Truck 1), Battalion 4 (Hess) and F.M. 45.
Battalion 4 arrived with nothing showing in the block and then was waved down for 514 Liberty Street.  Engine 4 investigated and found a fire in the crawl space and stretched one hand line. Chief Hess signaled a working fire.
Crews used saws to open up the walls and crawl space to extinguish the fire.  It appears the house is vacant and owned by a realty company.
Chief Hess held the box to the 1st alarm companies.
The video below is a quick look at Engines 4, 9, Battalion 43 and Truck 2 arriving to a reported apartment fire at 120 North 11th Street box 2219 early Sunday morning.
A minor fire in a first floor apartment was extinguished prior to the fire department arriving.  Crews used a fan to ventilate the first floor.