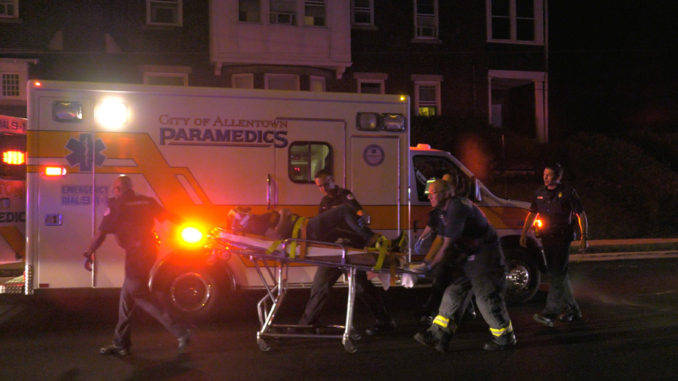 With a start to a busy July, we will showcase the weekend news in this wrap-up.
For starters, Saturday afternoon Allentown Fire was dispatched to box 2256 (8th & Liberty) for 540 North 8th Street on a house fire sending Engines 4, 9, 6, 10, Truck 2 (Truck 1) and Battalion 3 (Atiyeh).
Battalion Chief 3 arrived and reported heavy smoke showing from a 3-story Middle-of-Row (MOR).  Engine 4 arrived and under command of Captain J. Kutz stretched a hand line to the first floor and found heavy fire conditions.  Quickly putting a knock on the fire, the Captain ordered Engine 9 to the second floor with a hand line to check for extension and search.
Searches of all three floors were clear and the fire was knocked down within 15 minutes.
The box was held to the 1st alarm assignment.  Engine 13 moved up to the Hibernia stations while Engine 14 covered at the central firehouse on Chew Street.
Saturday afternoon a very serious storm hit the area causing wide spread damage.  In this video we show you the damage at the Lehigh Valley International Airport.  Multiple general aviation planes were tossed around with some landing on their roof.  The passenger terminal also sustained damage near gates 8 and 9.  Trees and power lines all over the area were reported down with power outages in many neighborhoods.
Early Sunday morning, Allentown Police engaged in a high-speed pursuit of a motorcycle on 12th Street and lost the cycle near Sumner Avenue.  State Police also assisted.  fifteen minutes later, a motorcycle crashed in the 1600 block of Walnut Street.  The cycle ended up hitting the front end of a parked car.  The rider was injured and transported by AEMS to the hospital with facial and other injuries.  Engine 10 was also on the scene.
Sunday afternoon, a Fire Police Captain radioed Lehigh County fire dispatch and reported a total collapse of the building at Station 22.  The entire roof over the social quarters of the Schnecksville Fire Company came down.  No one was inside that portion of the building at the time of the collapse.
All the apparatus was immediately removed from the engine bays for safety precautions.  A few people were in the kitchen but were not injured.