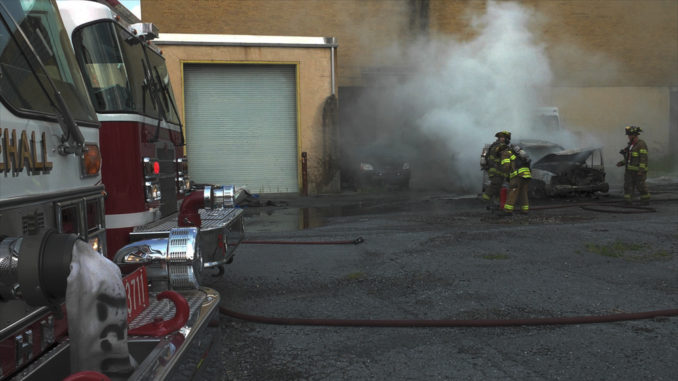 Thursday afternoon around 2:40PM Whitehall Fire Department sent Engines 1 and 12 to the rear of the Lehigh Valley Dairy, 1002 MacArthur Road for a vehicle fire.
Whitehall Police K-9 Unit 802 (Apgar) arrived and reported to the dispatchers that he had a pick-up truck fully-involved.  Engine 1 (LC3611) arrived and stretched a front bumper 1-3/4-inch hand line and advanced it to the truck.  As the firefighters approached the interior of the cab, the dash exploded from the violent reaction with water being introduced to the magnesium.  The firefighter (Nozzleman) was transported to the hospital by Cetronia Paramedics.  His gloves and coat were burned from the magnesium.
Engine 12 (LC3711) arrived and supplied Engine 1 with water.  Assistant Chief Dreisbach notified the investigation team (FMs office) to investigate the fire.  No one else was injured in the fire.
The photo below shows how violent magnesium reacts to water during a vehicle fire.