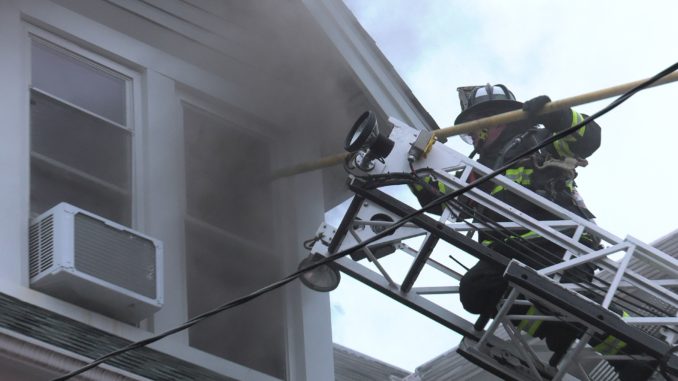 Lehigh County 911 Center transmitted the box at 18:00 for a house fire located at 317 Liberty Street in Catasauqua sending Stations 2 and 18 (North Catasauqua) and Medic 75.
Chief 18 went on radio responding and the fire dispatcher advised him that the caller was reporting a bedroom on fire and they were evacuating the residence. Moments later he went on location and reported smoke showing and signaled a working fire.
Lehigh County dispatched Greenawalds Rescue 11 to the working fire as the R.I.T. or F.A.S.T. company.
Ladder 2 arrived right in front of the 2.5 story duplex and put the ladder to the attic windows where the smoke was pouring from.
Engine crews stretched a dry line through the front door and headed up to the attic.
As they were locating the seat of the fire, Chief 18 struck the 2nd alarm bringing in Whitehall Fire Department and Hanover Township, Northampton County station 15.
The fire was quickly knocked down as the exterior members took out windows to help remove smoke and heat so the interior members had better working conditions.