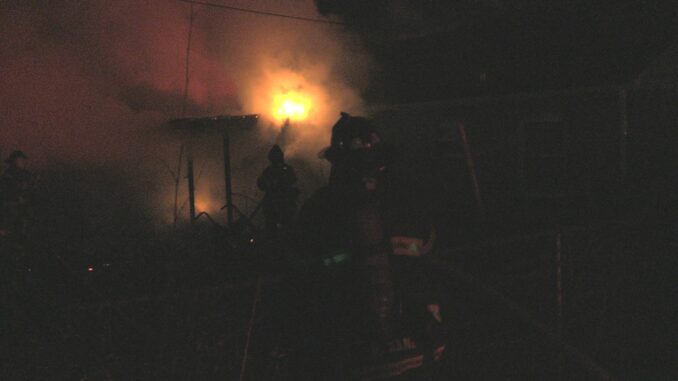 At 11:19PM Saturday, March 18th, Allentown Fire Radio transmitted an AFA to Willow Street at the Riverbend Apartments sending Engine 4, Truck 2 and Battalion 43. As those companies were responding, the Fire Radio dispatcher was transmitting box 2533 for 1402 Chew Street for a house fire sending Engines 9, 10, 6, 11 (F.A.S.T.), Truck 1 and FM45. The time was 11:20PM.
Battalion 43 (Lenig) was notified of the transmission of that box and diverted to the house fire. Engine 4 had nothing showing at the Willow Street call and told Truck 2 to divert to Chew Street. FM 45 arrived and reported smoke showing. Engine 9 was first-due and found a small fire on the porch and called for a water can.
As Battalion 43 was releasing companies on Chew Street, Fire Radio advised they were receiving calls for a house fire at 1023 North 23rd Street. At 11:28PM box 2953 was transmitted for a fully involved house on fire sending Engines 11, 14, 13, Trucks 1 and 2 with Battalion 43. Engine 6 along with Engine 10 and 4 cleared their calls and went responding. The fire dispatcher advised the homeowners were in the rear yard and the whole back of the house was involved in fire.
Engine 10 was first-due and stretched a hand line to the rear and started flowing water on the fire. Another hand line was ordered to be stretched through the front door to attack the fire from extending into the house. Engine 6 was ordered to go to the rear. They stretched a hand line to the rear and started darkening down the exterior fire with the Engine 10 crew. Truck 1 and Engine 4 proceeded to stretch a dry line through the front door to check for extension. Engine 10 reported at 11:40PM that the fire in the rear was knocked down. The interior operations reported no fire had extended into the home. Engine 14 was the designated F.A.S.T. company. Engine 13 was dispatched to Central Fire station to cover center city.
All times are approximate.