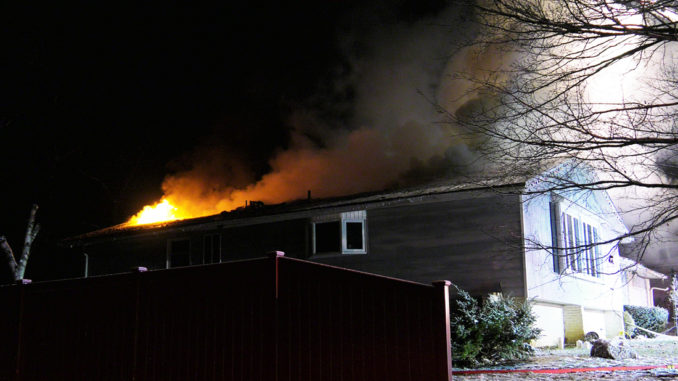 Lehigh County 9-1-1 transmitted the box for the 4400 block of Redwood Lane after a 9-1-1 call from a resident on Forest reported flames from a roof on Redwood.  At 01:05 Station 30, Engine 31 and Medic 66 were alerted.
Chief 30 arrived at 01:11 and reported a working fire in a 1-story private dwelling.  Engine 30-12 arrived and stretched two hand lines to the interior to make a hit on the fire in the roof.  Crews pulled ceilings and attacked the fire that was throughout the cockloft.  Engine 30-11 positioned in front of the dwelling and put their ladder up but did not use it.
At 01:25 Chief 30 requested a F.A.S.T. company, Air Cascade and a rehab unit.  Allentown Engine 11 was assigned the F.A.S.T., Air 32 was the cascade unit and a rehab unit out of Medic station 66.
At 01:30 Chief 30 special-called one additional engine company and a tanker above the 1st alarm.  Lehigh County sent Engine 31-12 and Tanker 25 at 01:32.
The fire was brought under control at 02:46.  No injuries were reported.