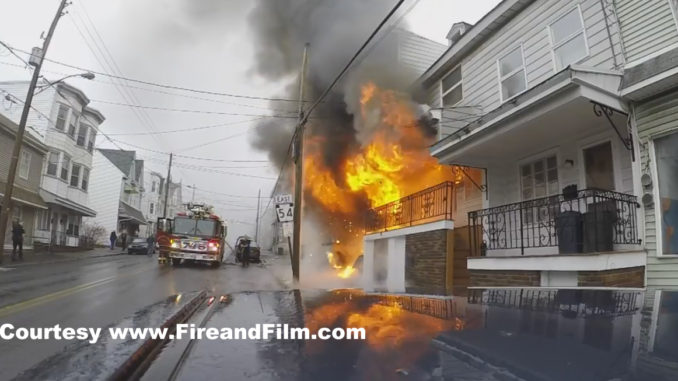 Our colleague JC Kriesher from Fire&Film arrived before the fire department in Shenandoah, Schuylkill County Wednesday morning .
When the first arriving Squrt 745 arrived, fire was blowing out the first floor of a middle-of-row dwelling and started extending to the home next to it.  With limited manpower, JC manned a hand line and made an attack on the fire that was extending to the home next door.
This is what JC wrote:
SCHUYLKILL COUNTY, PA – At 9:15 AM the Schuylkill County 9-1-1  Center dispatched the first alarm assignment to the 200 block of West Centre Street in Shenandoah for a reported house on fire.  The Shenandoah Fire Department & Shenandoah ALS were due on the incident along with Mahanoy City West End Rescue 993.
Marshal 742 arrived on the scene and confirmed a working fire.  Fire was found coming from a propane tank located outside the residence with a small amount of fire in the entryway.
Squrt 745 approached the scene and secured a water supply at Centre & West Streets and then proceeded into the scene.  Within minutes, the fire had fully engulfed the first floor of the primary building and was now spreading to the adjoining exposures on the "B" and "D" sides.
A 1.75″ attack line and 2.5″ attack line were stretched off the Squrt and crews began to darken down the visible fire on the exterior.  After a quick hit, crews pushed into the first floor of the fire building.  At this time, a second alarm was requested to the scene.
The second alarm dispatched units from Frackville, Englewood, Mahanoy City (Citizens), Shenandoah Heights and Ringtown Valley.
Engine 751 was the next Engine on scene and secured a second water supply at Chestnut & Lloyd Streets.  Multiple lines were stretched off 751 into the exposure buildings.  Frackville Ladder 43-20 was directed to approach the scene from Chestnut and was positioned in front of the "D" side exposure and flew the stick to the roof.
Photo and Video provided by FireandFilm.