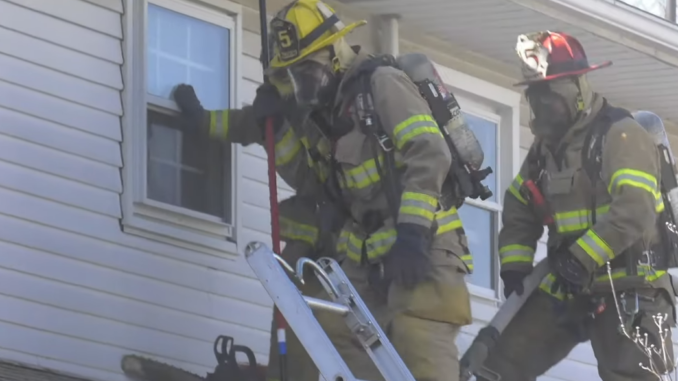 Monday afternoon Lehigh County Radio transmitted the box for a house fire on Suzanne Way in Hanover Township sending stations 33 and 41 (ABE Airport).
Engine 41 arrived and reported light smoke showing. When Engine 33 arrived, the officer had smoke and fire showing from a 2-story middle-of-row (MOR) and struck the 2nd alarm.
Engine 33 stretched into the kitchen for fire. Encountering Collier Mansion conditions the 3rd alarm was struck.
Crews used saws and cut a hole in the 1st floor roof to access any fire in the roof area of the kitchen. Another crew went to the main roof and cut a vent hole to let smoke and gases escape from the attic area.
After cutting a hole in the exterior wall of the second floor to check for extension, the firefighter backed up and fell into a hole previously cut in the 1st floor roof (3:46 mark). The firefighter was pulled from the hole without injury and continued working.