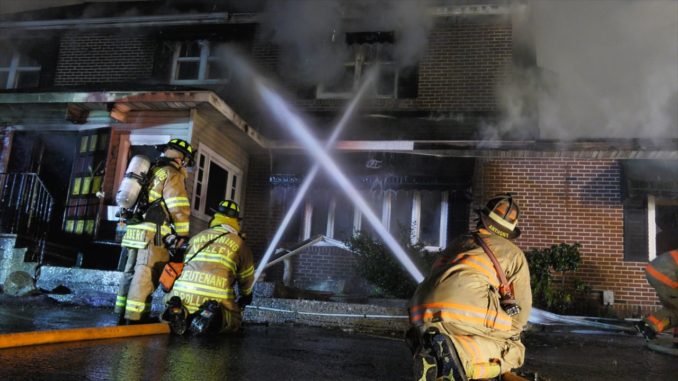 Carbon County transmitted the box for Trainers Inn located at 845 Interchange Road for a structure fire sending Station 4 (Franklin) and Lehighton EMS at 23:54 Saturday night.
Chief 403 went responding and reported heavy smoke from the building on the 'C' side but no fire visible.  Chief 401 transmitted the 2nd alarm immediately after arriving.
The 2nd alarm was struck to bring in more tankers to supply the Engines.  Tankers from station 5, 6 and 8 were dispatched.
Firefighters battled heavy smoke conditions for many hours as the fire advanced throughout the building.  Smoke continually pushed for more than 4 hours.
Lehighton's Ladder 523 positioned in front of the building and was used to get firefighters to the roof to cut vent holes.  Palmerton's Tower 7 was called in about an hour into the fire and went to the rear to battle flames from the roof.
Multiple hand lines and large hand lines with monitors were in operation.  Firefighters made numerous attempts to make an exterior attack.  At one point, firefighters were pulled out when fire started to vent out of a hole in the roof after firefighters cut the vent hole.
Support Newsworking!  Purchase a T-shirt from our new store by clicking HERE.