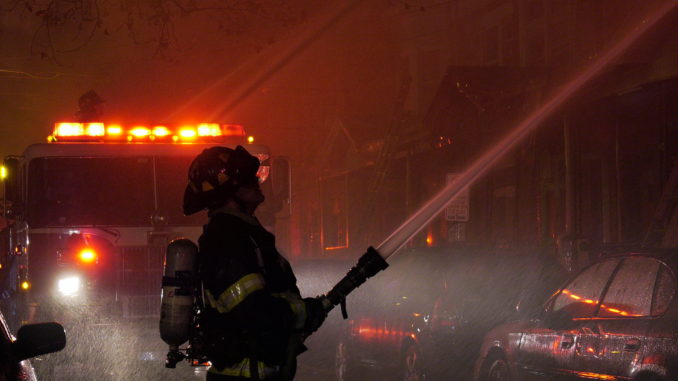 At 19:55 Thursday evening, Allentown transmitted box 2555 for 440 North Fulton Street on a house fire sending Engines 10, 4, 9, 6 (F.A.S.T.), Truck 2 and Battalion 43 (Hess).
Dispatch advised the units that police were on location reporting smoke showing. Engine 10 arrived and stretched in for a fire on the 1st floor of a 3-story M/O/R (middle-of-row). Engine 6 took the rear and stretched a hand line for fire venting out the back of the house.
Battalion 43 reported a working fire and special-called an additional Engine to the scene (Engine 11). Shortly after, as crews made the hit inside, they discovered fire extension in the walls and traveling vertically to the second floor and cockloft. The Battalion Chief ordered the 2nd alarm struck (Engine 13).
30 minutes into the call, the fire aggressively made its way to the cockloft and started extending horizontally. The Battalion Chief had the 3rd alarm struck bringing in the last available Engine, Engine 14 to the scene.
The fire extended throughout the cockloft and damaging 8 homes in its path. A off-duty firefighters were called in to man reserve Engines 8 and 12 and ordered to the fire scene, essentially making this a 4th alarm fire.
It took about 3 hours to bring the fire under control.