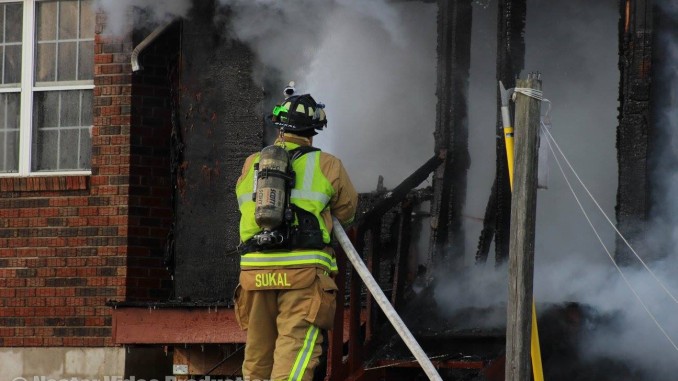 Lehigh County received 3 calls for a report of a house fire in northwestern Lehigh County.  At 15:04 Saturday afternoon the box was transmitted for 2206 Seipstown Road in Weisenberg Township sending Station 51, Tanker 8, Ladder 8, Berks Rescue 21 and EMS 62.
Chief 8-01 went responding and the fire dispatcher let him know that one call came from the homeowner who was trying to get her cat out of her burning home and a second and third call came from neighbors.  At 15:11, Chief 8 spotted a heavy column of smoke in the area and requested the second alarm struck.
At 15:10 Lehigh County transmitted the second alarm sending the balance of 51, Berks Engine 21, 46, Tanker 21, 46, Rescue 44, Tanker 25, Attack 17, Rescue 1 (Alburtis) for the designated F.A.S.T.
Chief 8 arrived at 15:12 and reported a fire in the private dwelling and requested an additional tanker from 26 (Tri-Clover) at 15:19.
Crews operated with multiple hand lines and used tankers to shuttle water to the scene.  At 15:20, the chief ordered one more tanker to the scene.  The dispatcher assigned tanker 17 as the additional tanker above the second alarm.
As crews battled the flames and freezing temperatures, the chief requested another engine and tanker from South Whitehall.  The Weisenberg Township Municipal Building was opened up for shelter and food.
Western Salisbury was also called for their F.A.S.T. company.
All photos and video by Mike Nester.