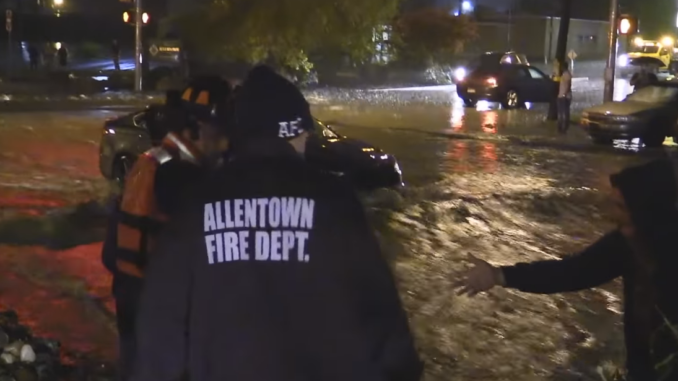 Late Friday night sever weather rolled into the regions dumping flooding rains and even spawning tornado warnings.
Water rescue crews were out all night long throughout the area pulling people out of stranded vehicles. Rain was so heavy it flooded I-78 in Salisbury Twp and firefighters were forced to make rescues as people continued to take risks and drive through flood waters.  On Interstate 78 under Route 309, early in the storm a tractor trailer hit a bridge abutment and crashed off the highway.  Radio reports indicated there was a man trapped in the tractor.  Fire command ordered PennDOT to respond forthwith to the scene to inspect the bridge due to the damage caused by the tractor trailer hitting it.
The southern portion of Lehigh County and south Allentown, including Bethlehem and Northampton County were hit hard by the storms, sending out fire department personnel for many hours into Saturday morning.
Video and photos by Mike Nester of NVP.