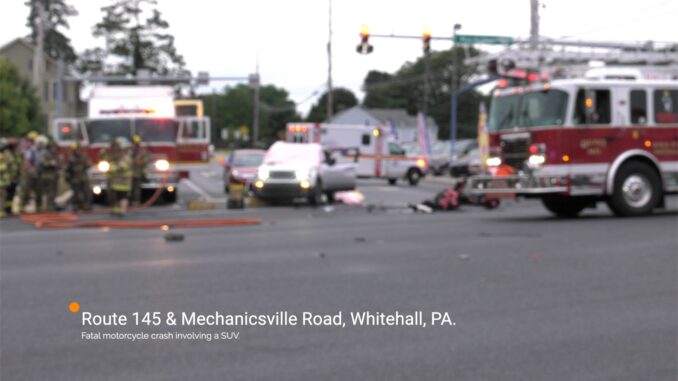 At 7:00PM Sunday evening, Whitehall Police received a complaint of 40 motorcycles driving erratic southbound on Rt. 145 from the Sheetz Gas Station. Moments after that dispatch, Lehigh County transmitted the rescue box for Rt. 145 and Mechanicsville Road for a crash involving a motorcycle.
Rescue companies extricated the driver and removed the driver of the motorcycle. The driver was being aided by Cetronia EMS for an arm injury.
Police covered up the motorcyclist and the car where the teenage passenger was still inside. Both were pronounced dead at the scene.
Witnesses tell Newsworking that a group of motorcycles were flying down MacArthur Road. The SUV was northbound making a left turn onto Mechanicsville Road when the motorcycle hit the passenger side door of the SUV. The truck rolled onto its side briefly and spun around. (not validated or confirmed)
The roadway was closed at Lehigh Street where all southbound traffic was diverted. Mechanicsville Road was closed at the intersection. The accident reconstruction team was called to investigate.
PLEASE share this video and educate motorcyclist the dangers of doing tricks and speeding on public roadways. Public roadways have many dangers, potholes, cracks, liquids, distracted drivers in cars and more! Hopefully these type of videos can prevent injury or death to the rider or an innocent person in another vehicle. Furthermore, drivers of cars need to pay attention to their surroundings also. Motorcycles are harder to see and travel at a faster rate. We all need to take driving more seriously and responsibly. Thank you!