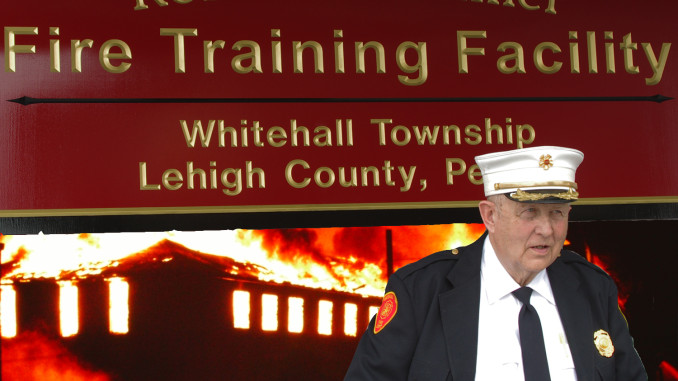 It is with a heavy heart, that we announce the passing of long time Fire Chief Robert Benner, 50 year member of the Whitehall Fire Department and life long resident of the township.  He was 80 years old.
He joined the Fire Department in 1967 and was promoted to  the Fire Marshal position in 1976 and known as Unit 16.  He succeeded as Fire Chief after William Balliet left the department in 1986 and his number was changed to 35-01 after the department joined Lehigh County Communication 9-1-1 Center for dispatching.
Whitehall Township and the greater Lehigh Valley lost a legend Wednesday.  He was well known in every fire station in the valley as he was a fire instructor and mentor of many firefighters over the years.
Newsworking sends its condolences to the Benner family and all the brother and sisters of the Whitehall Fire Department.  Chief Robert Benner will be greatly missed, as he was the face at every fire call in the Township.
The photo above is Robert Benner at the Fire Training Tower dedication and of the Fullerton Furniture Gallery fire.