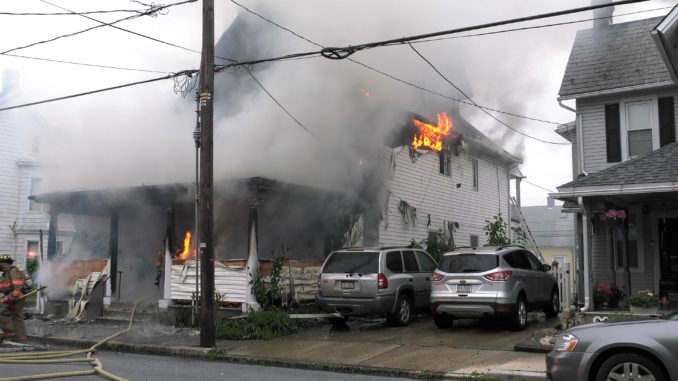 Northampton County 9-1-1 transmitted a house fire for 2006 Washington Avenue for a house fire at 6:49AM. Callers were reporting the porch on fire and rapidly expanding.
On arrival they found a working fire in a 2-1/2 story dwelling with fire on the porch and extending vertically and reports of people trapped. Engine 42 arrived in front of the fire building and immediately darkened down the fire with the deck gun.
Crews were reporting people trapped on a porch to the rear of the building. Firefighters threw ground ladders and removed the occupants from the porch.
The fire continued to extend and eventually got into the attic space where it burned off a portion of the roof.
Lehigh Township Ladder 47 positioned on the southeast corner and went to the roof to vent. Ladder Tower 46 (East Allen Twp.) positioned in the alley on the southside. Ladder 18 (North Catasauqua) positioned on Washington Avenue behind Engine 42 and Palmer Ladder 27 positioned in the rear alley west of the building. Ladder 27 members went to the roof in the rear and cut a vent hole.
Three cats were removed and in care of EMS where one passed.