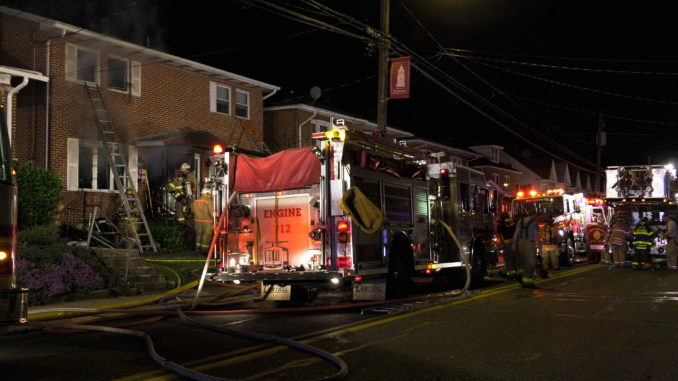 Just after 23:00 hours Friday night, Lehigh County transmitted the box for a house fire in the 800 block of Chestnut Street.
First arriving Engine 7 transmitted a second alarm on arrival reporting smoke showing from the two-story duplex at 818 Chestnut Street.  Police pulled two adults and one child from the burning home before the fire department arrived.
A second crew went to the floor above the fire for a search.  The first floor flashed-over trapping the firefighters above.  Evacuation tones were ordered and all firefighters were to evacuate.  Moments later a firefighter fell out the front door that was engulfed in flames.  Two more firefighters transmitted a mayday.  They were on the second floor.  Members quickly used a hand line to darken down the fire that was engulfing the first floor so the two remaining firefighters could exit the building.
The first firefighter was transported to an area hospital.  The two other firefighters were being treated at the scene by Emmaus EMS.  All three suffered minor injuries.
The fire was brought under control at 00:35 hours Saturday morning.