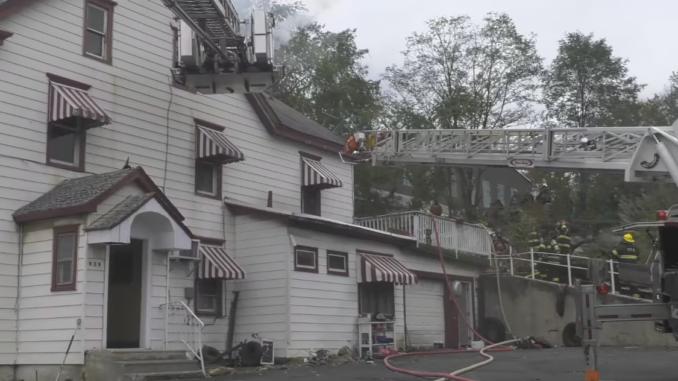 Early Sunday afternoon, Carbon County 9-1-1 dispatched Palmerton and surrounding fire companies to a report of a structure fire with entrapment to 939 Mauch Chunk Road above the Rusty Nail Inn.
When police arrived, they told dispatch that everyone was out of the building and there was fire in the rear of the structure.
First arriving Tower 7 confirmed a working fire and had mutual aid dispatched to assist.
Multiple lines were stretched to the rear of the building where heavy fire was venting out the rear second floor door.
The fire extended into the attic of the 3-story structure.  There's a closed bar / restaurant on the first floor and living quarters on the top two floors.
Two firefighters went to the roof with saws and cut a vent hole to release super-heated air and smoke to relieve the firefighters inside.
One cat was found alive and removed from the apartment.  Other pets are missing.
Companies assisting Palmerton were:  Aquashicola, Bowmanstown, Lehighton, Lehigh Township, Walnutport, Slatington, Woodlawn, Palmerton EMS and Mahoning Valley EMS.