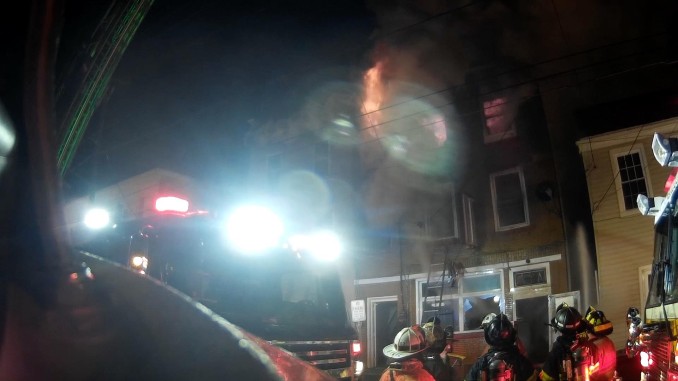 Catasuaqua, PA. – At 03:16 Saturday morning, Lehigh County sent the box out for a house fire at 223 Front Street for stations 2 (Catasauqua) and Engine 18 (North Catasauqua).
Engine 211 went responding and was updated by the fire dispatcher that the caller was reporting smoke from the 2nd floor rear.  An additional caller reported smoke from the basement.  With that information, Engine 211 added a F.A.S.T. company to the response.
Engine 211 arrived at 03:24 with smoke showing and immediately had the 2nd alarm struck.  The fire dispatcher transmitted that 2nd alarm at 03:25 sending Whitehall Engine 2 (3712), Engine 33 (Han-Le-Co), Northampton County 1442 and Rescue 11 (F.A.S.T.).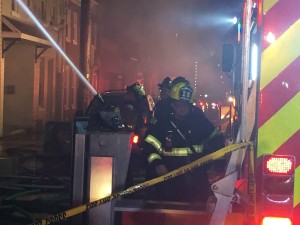 Engine 211 positioned in front of the building while Ladder 18 came down the wrong way on Front Street and nosed into Engine 211.
Command struck the 3rd alarm at 03:42 sending in Whitehall Engine 1 (3611) and Northampton County Engine 15 and Ladder 15.
At 03:59, command ordered everyone out of the buildings and went into defensive mode because the structure was compromised and a collapse was eminent.
At 04:07 the rear sector command reported total collapse of the building on floors 2 and 3.  An additional R.I.T. company was sent in from Alburtis (Rescue 1).
Video by Mike Nester.