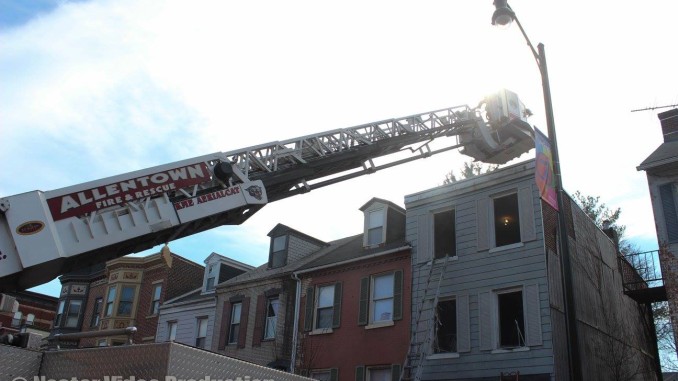 The time was 14:19 and box 2235 was transmitted for 224 North 7th Street on a report of a house fire.  Engines 4, 9, 6, 10 (F.A.S.T.), Truck 2 and Battalion 3 (Atiyeh) were dispatched.
Battalion 3 arrives and reports a 3-story brick end-of-row (E/O/R) with smoke showing from the second floor and a hydrant out front of the fire building.  He instructed Engine 4 to come right in a let room for the truck company.  Engine 4A (Captain Kutz) advises that he has people trapped and immediately stretches a hand line and once inside signals a working fire and has Engine 4 to wet the line.
Command we need to get crews to the second floor via a ladder there's a bunch of people upstairs ~ 4A Captain Kutz
Captain Kutz advises command to get crews to the second floor via the ladder for a bunch of people trapped and reports a fire in the basement.  Battalion Chief Atiyeh has the second alarm struck sending in Engines 13, 14 and Air 1.
Within minutes, 4A reports to command that he has the fire knocked down and there's a bunch of holes in the floor.  Truck 2 positioned in front of the fire building and went to the roof.
Primary and secondary searches of all floors are conducted but no one is found.  It was later determined that the house was vacant. The fire is under investigation.
Photos and video by Mike Nester.