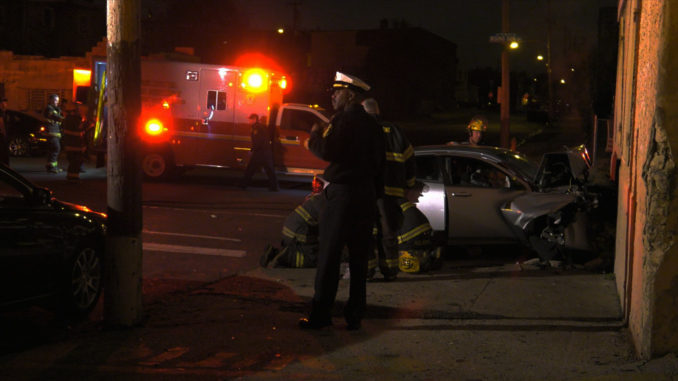 Newsworking ventured out onto the streets of Philadelphia Wednesday night into Thursday morning.
Soon after arriving, we went to a injury accident in the Hunting Park section located at 915 Rising Sun Avenue.  Engine 55, Ladder Tower 22, Squad 72, Battalion 8, Medic 4 and Medic 2.
Firefighters found a car hit a warehouse with severe front end damage.  A male passenger, 75 years old, was in cardiac arrest and CPR was being administered when we arrived.  The person was pronounced dead shortly after.  The driver, a 25 year-old woman suffered injuries and transported to Temple University Hospital.  Squad 72 was recalled upon finding out no one pinned inside the car.
Moments later, Engine 50 is caught on camera leaving their quarters enroute to a shooting at 16th and Lippincott Streets.  A 23 year-old male was found shot to death in his car.
Follow us! Like us! Show us that you love us…
Live TV: Periscope.tv @newsworking
Facebook: https://www.facebook.com/newsworking
Twitter: https://www.twitter.com/newsworking
Instagram: https://www.instagram.com/newsworking
Website: https://www.newsworking.org
Want to watch us doing "LIVE" broadcasts? Check us out on Periscope.TV – use the link on our home page of our website and follow us! Go behind the scenes, dashcams and incidents as they are happening LIVE on TV!