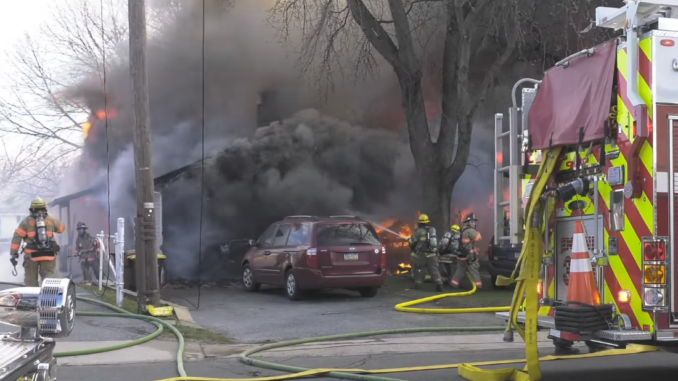 The time was 10:45AM when Lehigh County 9-1-1 started receiving calls for a house on fire. Fire dispatch transmitted the box for 2129 South 1st Avenue for a working house fire, sending Engines 2, 3, 13, 4, Trucks 6 & 231 (Catasauqua) and Rescue 11 (Greenawalds) and Medic 62.
Responding police reported heavy fire engulfing the house. The first chief on scene (Shambo) reported a fully-involved house. Engine 2 arrived first and positioned in front of the house and stretched a hand line to side 2 (B) to protect exposure 2. Engine 3 arrived and brought a water supply in for Engine 2 from 1st Avenue and Fuller Street. Another hand line was stretched to the front of the house.
Ladder 231 went to the rear and set-up in a parking lot. Engine 4 brought a water supply for Ladder 231 in from Miller Street. Engine 13 positioned at the hydrant on Fuller Street that Engine 3 hit.
Tower Ladder 6 positioned in front of the first-due Engine 2. They eventually set-up and both elevated water streams were used from them and the ladder in the rear to hit the fire the ground crews couldn't reach.
Rescue 11 was the designated R.I.T. company. One firefighter was injured. The occupants of the house escaped the blaze and were safely removed to the back of an ambulance.
Engine 5 was called in for fire watch into the evening.